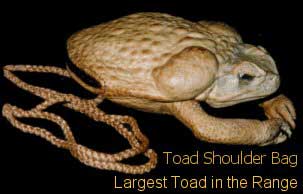 Cane Toad Wallet
Marino Leather Exports produce quality, wholesale cane toad wallets and purses made from quality cane toad leather.
Our unique, cane toad wholesale wallets and purses are designed and created for that someone who likes something different. The cane toad wallets and coin purses come with or without legs attached. The coin purses fit snug in your pocket and have an attached keyring. We also manufacture a range of wholesale toad leather shoulder purses.
Cane Toad Leathergoods
Leather from the cane toad is strong and versatile. Thanks to the tanning process, the rubbery toad skin is turned into a very fine quality, exotic leather. This makes it perfect for a range of high quality, unique and endearing leathergoods.
All coin purses and shoulder bags are lined with pigskin leather for extra durability against wear. The skin we manufacture our coin purses from improves with age due to oil from hands and the polishing movement in pockets.
Wholesale Leathergoods That Are Manufactured to the Highest Standards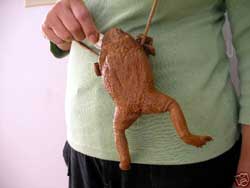 All of our wholesale wallets and coin purses are individually handcrafted and manufactured from genuine cane toads with strict quality controls. Cane toads are classed as major environmental pests in Australia and because they are not indigenous, no permits are required to send these wholesale purses overseas.
These coin purses and bags come with information cards and are perfect products for impulse buyers. All our cane toad products are proven market sellers and are easy to post overseas.
Order your wholesale cane toad wallets, purses and leathergoods today.
to contact us for more information about our range.