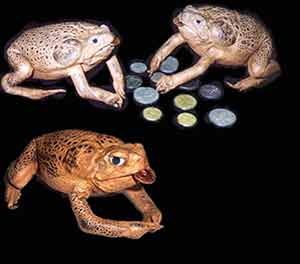 Cane Toad Taxidermy
Marino Leather Exports, an Australian wholesale exotic leather company, supplies cane toad taxidermy for sale. All our animal taxidermy is produced to the highest standards by skilled taxidermists and leatherworkers.
Animal Taxidermy - Cane Toad Products
We produce cane toad novelties for retailers. Our cane toad taxidermy range includes coin purses, shoulder bags, hats, belts, sunvisors, cane toad key rings and golf gifts.
Cane toads are classed as a major environmental pest in Australia so no certificate or customs clearance is needed when sending these animal taxidermy products to other countries.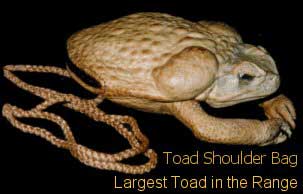 Kangaroo Taxidermy Products
Marino Leather Exports supply kangaroo taxidermy for sale. This includes kangaroo paw back-scratchers, roo paw bottle openers, roo scrotum bottle openers and roo scrotum pouches. All roo products are crafted by trained, skilled taxidermists from genuine Australian kangaroos. Environment Australia requires an export permit for these animal taxidermy products.
to contact us for more information about our range.